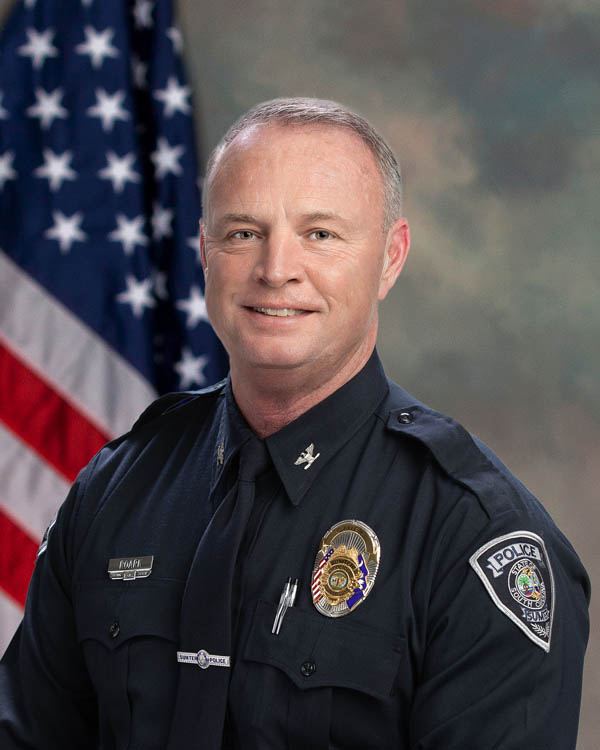 Chief Roark's policing philosophy is to improve the quality of life through intelligence-led policing while developing partnerships within the community. As an advocate for the well-being of his employees, he's deeply invested in improving their quality of life and he strives to foster their development through mentorship and training.
Chief Roark joined the Sumter Police Department as Deputy Chief in December of 2009. He was sworn in as Chief of Police of the Sumter Police Department in September 2011.
Prior to coming to the Sumter Police Department, Chief Roark served with the South Carolina Highway Patrol for more than twenty-six years. He retired as Colonel of the Highway Patrol in May 2008, a post he had held since June 2003. Upon his retirement he worked in the private sector as a consultant with Ward Services in Columbia, South Carolina.
Degrees and Accomplishments
Bachelor of Arts, Criminal Justice, Saint Leo University
2005 Graduate, South Carolina Executive Institute
FBI National Academy, 184th Session
2006 Recipient Strom Thurmond Award for Excellence in Law Enforcement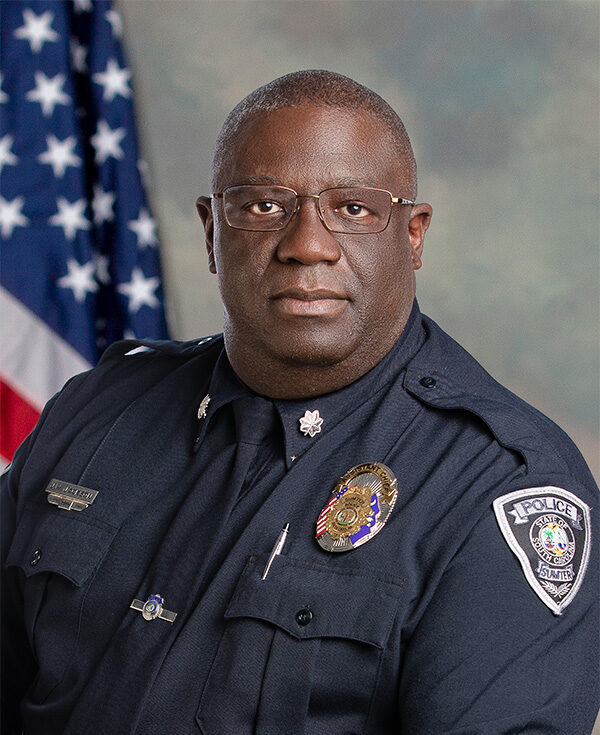 Jeffery W. Jackson Sr. joined the Sumter Police Department in 1988 as a Patrol Officer. He has since served as Shift Sergeant, Shift Lieutenant, Patrol Captain, and Major of Operations. In 2020, Jackson was promoted to Assistant Chief of Police.
A native of Sumter, Colonel Jackson holds a Bachelor of Arts Degree from Morris College, and was commissed as an Officer in the United States Army. He is also a graduate of the 236th Session of the FBI National Academy.
Captain Angela W. Rabon began her law enforcement career in 1994 as a reserve deputy with the Charleston County Sheriff's Office before becoming a full-time officer with the Charleston City Police Department. Rabon joined the Sumter Police Department in 1997, where she worked her way through the investigations division to her current rank of Captain.
Rabon heads the Investigative Services Division, which conducts investigations concerning violent crimes, property crimes, financial crimes, juvenile delinquent activities, and oversees forensic/polygraph and crime scene matters. The agency's Warrant and School Resource Officers are also led by Rabon.
Captain Michael Evans began his law enforcement career with the Sumter Police Department in June of 1998. Through his career, he has worked for the agency as a Patrol Officer, Community Oriented Police Officer, Traffic Officer and Recruitment Officer. In 2007, he was promoted to Sergeant and reassigned as the Training Officer. He later transitioned to work as a Patrol Sergeant and Traffic Supervisor. In 2010, he was promoted to Captain and appointed to assume command of the Support Services Division. In 2021, Captain Evans assumed command of the Special Operations Division.
As the commander of Special Operations, Captain Evans oversees and manages Training, Research & Professional Development, and Fleet & Facility Management.
Captain Robert S. Singleton III started his career in law enforcement with the Sumter Police Department in 2005 serving as an E911 Telecommunication Officer. He graduated from the SC Criminal Justice Academy in 2008, and began his service as a uniform patrol officer. In 2014, he was promoted to Lead Corporal and then Sergeant in the Patrol Division. He led the department's Traffic Unit from 2015-2017, when he was promoted to Staff Sergeant and later Lieutenant of the Selective Enforcement Unit. As commander of Selective Enforcement, Singleton led the department's Traffic Division, K9 Unit, Animal Control and School Crossing guards. In January of 2019 Singleton was promoted to Captain and currently serves as the Patrol Division Commander.
As Commander of this Division, Captain Singleton oversees four Patrol shifts responsible for 24/7 police response to calls for service, Traffic Division, K9 Unit, Animal Control, and School Crossing Guards.
Captain Singleton is a 2018 graduate of the Southern Police Institute Command Officer's Development program and is currently seeking a degree in Criminal Justice at St. Leo University.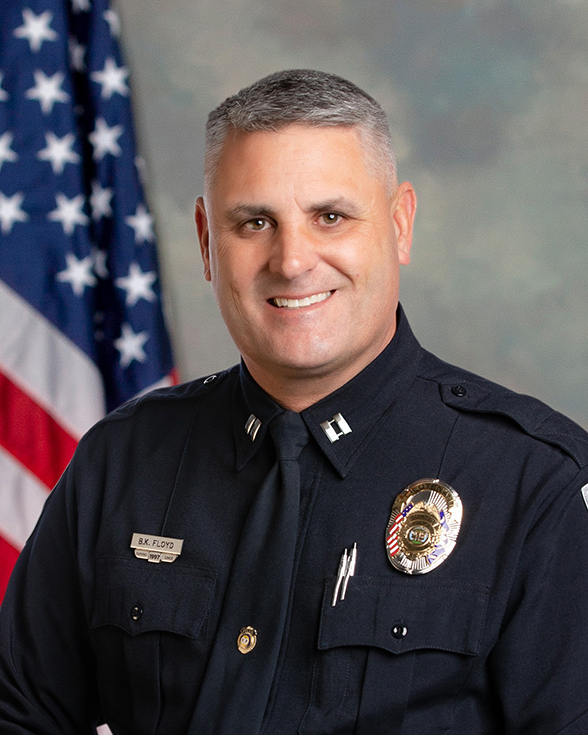 Captain Floyd, a native of Clover, SC, holds a Bachelor of Science degree in Marketing and Management from the University of South Carolina, and is a graduate of the 267th Session of the FBI National Academy.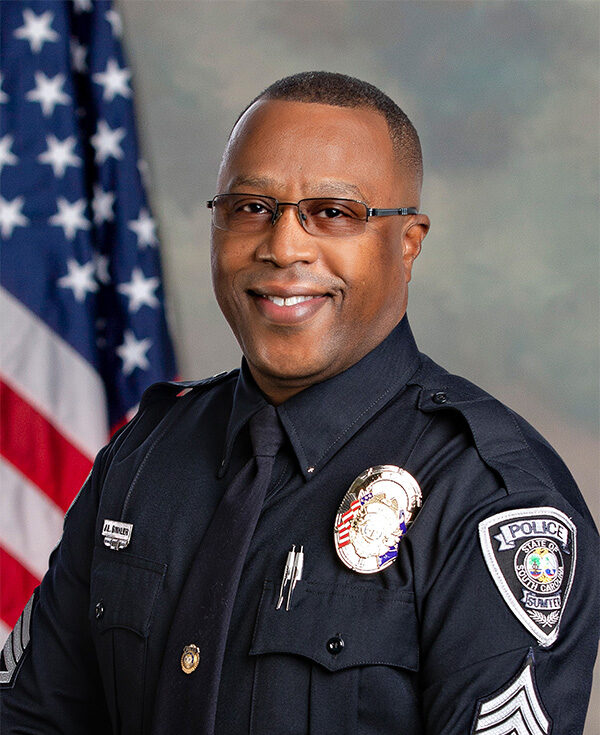 Sergeant Major James Sinkler started his career in law enforcement with the S.C. Highway Patrol in 1988 after serving as a U.S. Marine. A native of Sumter, Sinkler joined the Sumter Police Department in 2013 after retiring as 1st sergeant over Troop 1 in the Highway Patrol.
Having started as a corporal in what was then the department's Crime Prevention Unit, he now heads the unit which has broadened its scope and responsibilities to become the Community Services Unit.
Through his leadership, the Community Services Unit assists the agency in building community relationships by strategically coordinating ways to address grassroots issues, disseminate information of public interest, and build goodwill in the community.